It's Not About SiteBuilding
It's Not About Hosting
It's ONLY About Building a Profitable Business
Why Is This Page So Important?
This is the most important page of SiteSell.com. Here's why...
You're starting an online business to reach an important goal. That goal varies from person to person. Some examples of actual SBI! members (aka "SBIers")......
"quit the day job" (independence from a 9-to-5 job)
"contribute to the college fund while being at home for my children" (family)
"buy my first horse and learn important skillset" (a teen's dream, with help from Mom)
"prepare for a no-drop-in-income retirement" (self-reliance)
Whatever your goal may be, we take it seriously because it's important to you. By now, your only question is...
Skip Straight to the Proof?
Few solopreneurs succeed (out of millions who try). Many companies, therefore, resort to trickery to show you some success. This first section makes you foolproof to fake claims of success. Bottom line...
If a company does not even try to show a few examples of business success or if it fails the tests below, you will likely end up as one of the 99% who fail.
If you have read this section already, skip straight to Solo Build It!'s proofs.
"Who Is Most Likely to Help Me Succeed?"
Our competitors, large corporations with 1,000-10,000 times more clients than us, look mighty slick. Celebrity Super Bowl and other glitzy ads make a powerful impression.
Ironically, their "proof of success" is often proof of their success. For example, "we have 92,000,000 websites — we must be good." But how many succeed?
Web hosts like GoDaddy stress how they provide the best hosting, are the most secure, are the cheapest, etc. Site builders like Wix emphasize the quality of their sitebuilder, complete with "countless stunning designs."
But what about business success? Isn't that the bottom line?
Claims of Success Are Easy to Make (and Fake)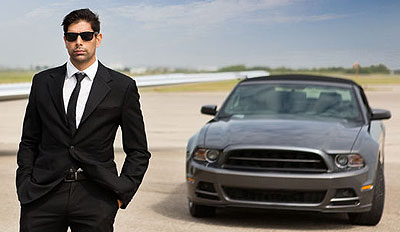 The cheesiest, hard-sell operators show photos of people in front of their Maseratis. Run, don't walk, away from those who use "I'm rich" claims.
Others use tons of testimonials from "Jim Smith, New York" or "Loretta Martin, London" — there's no way to check that! It's "odd" that they don't supply domain names! Or...
When they do provide domain names, all are clearly related to "make money online." Self-proclaimed gurus actually trade testimonials! "I'll love your product if you love mine."
Big companies are more subtle.
Wix uses the hashtag "#ItsThatEasy." Putting up a slick site actually is easy with any good sitebuilder — but building a profitable business is not. Wix implies that "site=business," but that's not even close to the reality.
The sneakiest trick that we've ever seen?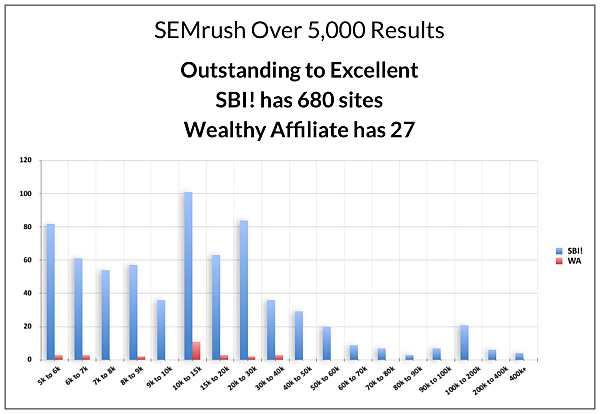 One company's affiliates use fake reviews of Solo Build It!. They pretend to write a review about SBI!, but somehow they always suggest another product as their "#1 recommendation"...
It's always the same product because those marketers are paid big commissions to hook you. Our response is an example of how we work. We proved which product is better — much better! This scientific study can be performed by anyone, which makes it un-fakeable.
Wrapping up...
Loads of companies, big and small, want you to believe that you'll succeed with them. Their problem? Their success rates are abysmal. That makes it hard for them to answer the only question that really matters...
"How can I figure out which company best enables me to succeed?"
Understand the 3 possible tricks for products that can't prove success (because there's little or none)...
Claim success without any proof (not even a story to tell). Avoid.
Claim success, but testimonials or stories do not include domain names. Avoid.
Claim success, with verifiable stories or data — they provide domain names. Consider & verify.
And on that note, here's the best tip that you'll ever get to answer that "How can I figure out" question...
Insist on Verifiable Proof of Success
Insist on a domain name with every success story. Domain names enable you to verify claims of success in two ways...
1) Verify Traffic 🕵
Enter the domain name into Alexa, SimilarWeb and SEMrush to double-check for traffic success. Repeat for several sites if many are provided.
2) Contact Owners 📞
Pick a few websites, randomly, and use their contact form. After a friendly hello with your fellow solopreneur, ask the hard questions...
Are they actual customers?
Is the story 100% true? Any unmentioned problems?
How much traffic do they get (same ballpark as Alexa/SimilarWeb/SEMrush)?
Knowing what they know now, would they start with the same product?
P.S. More Information (Optional)
We cover it all here — how to detect schemes, tricky claims and even fake reviews. There's no need to be a victim.
It's "Marketing 101" to include success stories. Unfortunately, few solopreneurs succeed, especially at high levels. It's "Marketing 102" to fake it.
Only Solo Build It! has a high rate of success, and at high levels. That's why only SBI! provides genuine, verifiable-by-you, proof.
No one else does because no one else can. They would if they could.
Congratulations!
You're now "foolproof"...
Look for success stories to get a better feel of any product. If there are no stories, something is wrong.
Ignore stories without domain names — anyone can (and does) make stuff up.
Check traffic if domain names are provided. You'll be surprised by how many rank poorly — and those are the successes!
It's simple. It's important. Protect yourself!
"Where's the Beef?"
Your solid due diligence (which most don't do) will expose a hard, sad reality. The success rate of solopreneurs is depressingly poor. Solo Build It! (aka "SBI!") multiplies your chances by 100 fold. The reason is simple...
Figuring it all out sucks too much of your time. SBI! lets you, the time-limited solopreneur, focus 100% of your time on building your business. You focus and follow a step-by-step, proven process that evolves with the times. We take care of everything else (e.g., "keeping up!").
👉 Go for the Steak, Not the Sizzle
This choice is too important to be swayed by the "shock and awe" of Super Bowl ads, by "BigCo" glitz that has nothing to do with your success.
Recognize and run from fake reviews and other immoral cons of smaller operators. Most see you as a sucker to be drained.
It all boils down to one simple guideline...
Insist on the "meat and potatoes" of proof.
We Make You 3 Promises...
Nothing succeeds like SBI!. You will never see so much proof, examined in so many ways, anywhere else. You give yourself the best chance of success when you use SBI!.
We understand and respect you, and admire the courage it takes to do something to reach a goal or dream that matters.
Getting started now will be the best online business decision you ever make...
Order SBI! Today & Try It Risk-Free!
The 90 Day "Confidence of Success" Guarantee makes it can't-lose risk-free
Two Ways to End All Doubt
Option 1 Get started and see with your own eyes. Our Guarantee makes that faster course of action can't-lose risk-free. All doubts end when new SBIers see the serious, unique and all-encompassing approach to online business-building.
Option #2 Since you're here for proof and since you now know how to evaluate it, let's review it...
Objective, Verifiable Proof
Nothing comes close to SBI!. Time to put our proof where our mouth is! Let's examine six types of proof...